Optimum MagiCook PRO - The Best Decarboxylator Herbal Infuser in Australia
Colour
Extras
Without Decarb Box (1300ml) + Thermometer
🌿DECARB BUNDLE: 1x Decarb Box (1300ml) + Thermometer
🎁MEGA BUNDLE : 2x Decarb Boxes (700ml + 1300ml) + Thermometer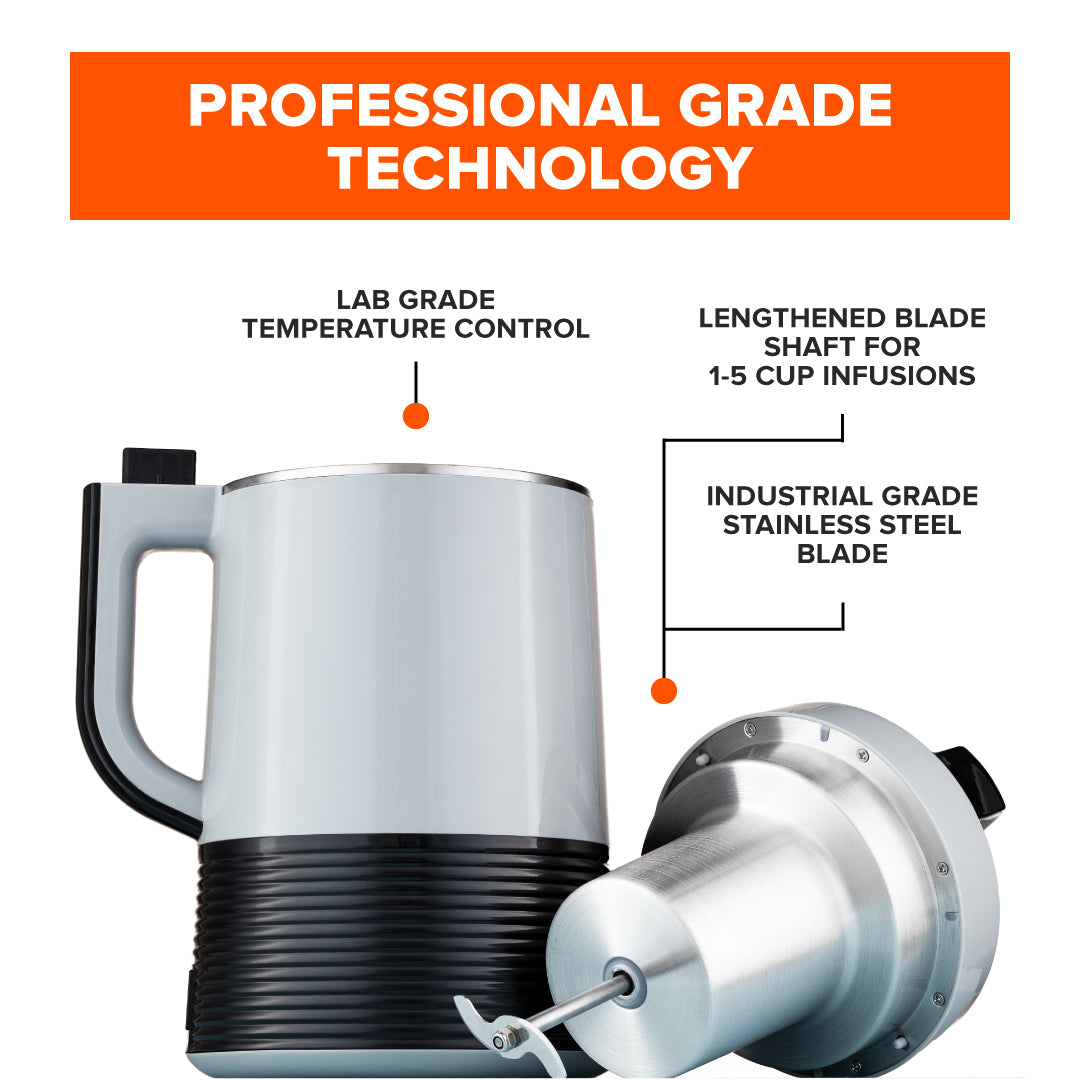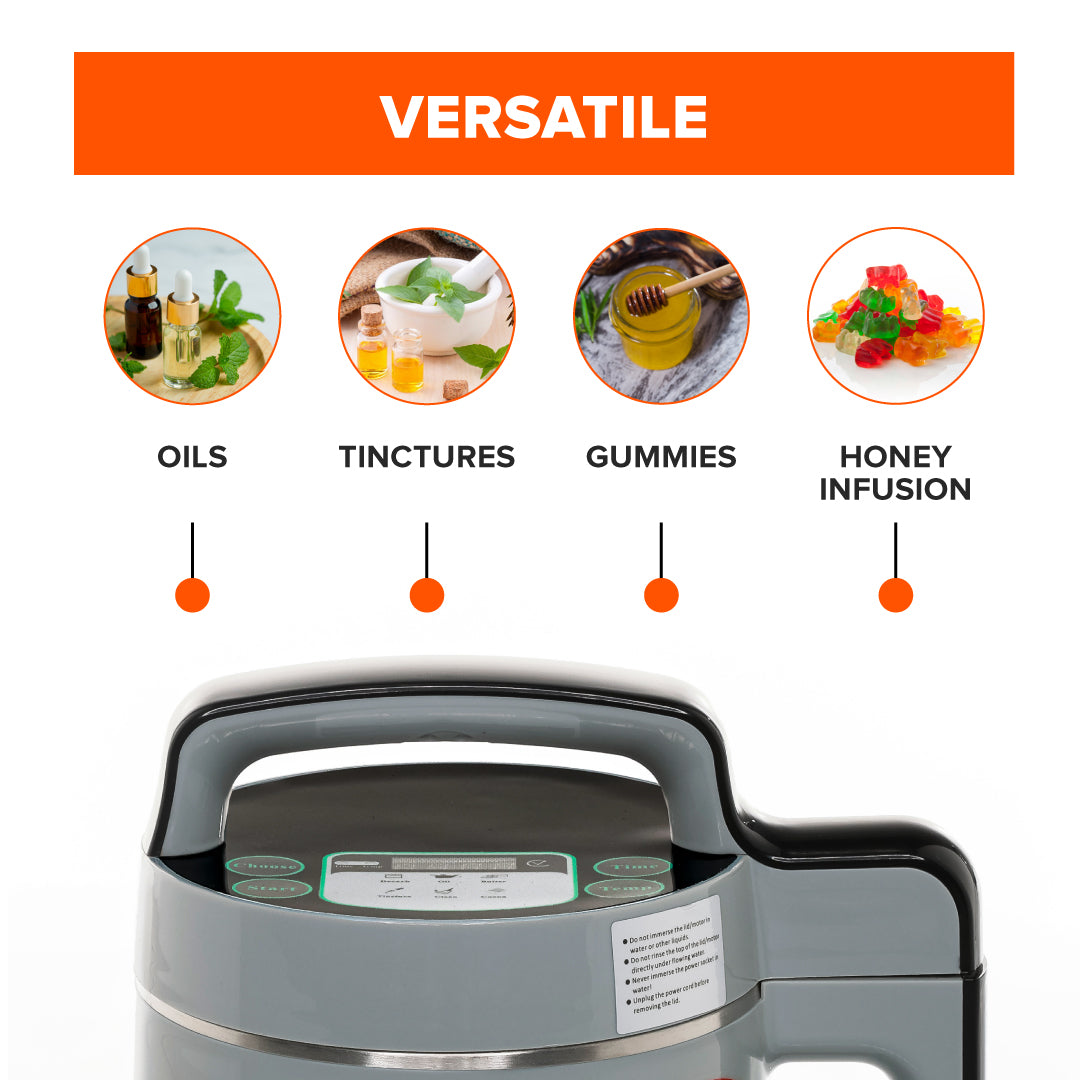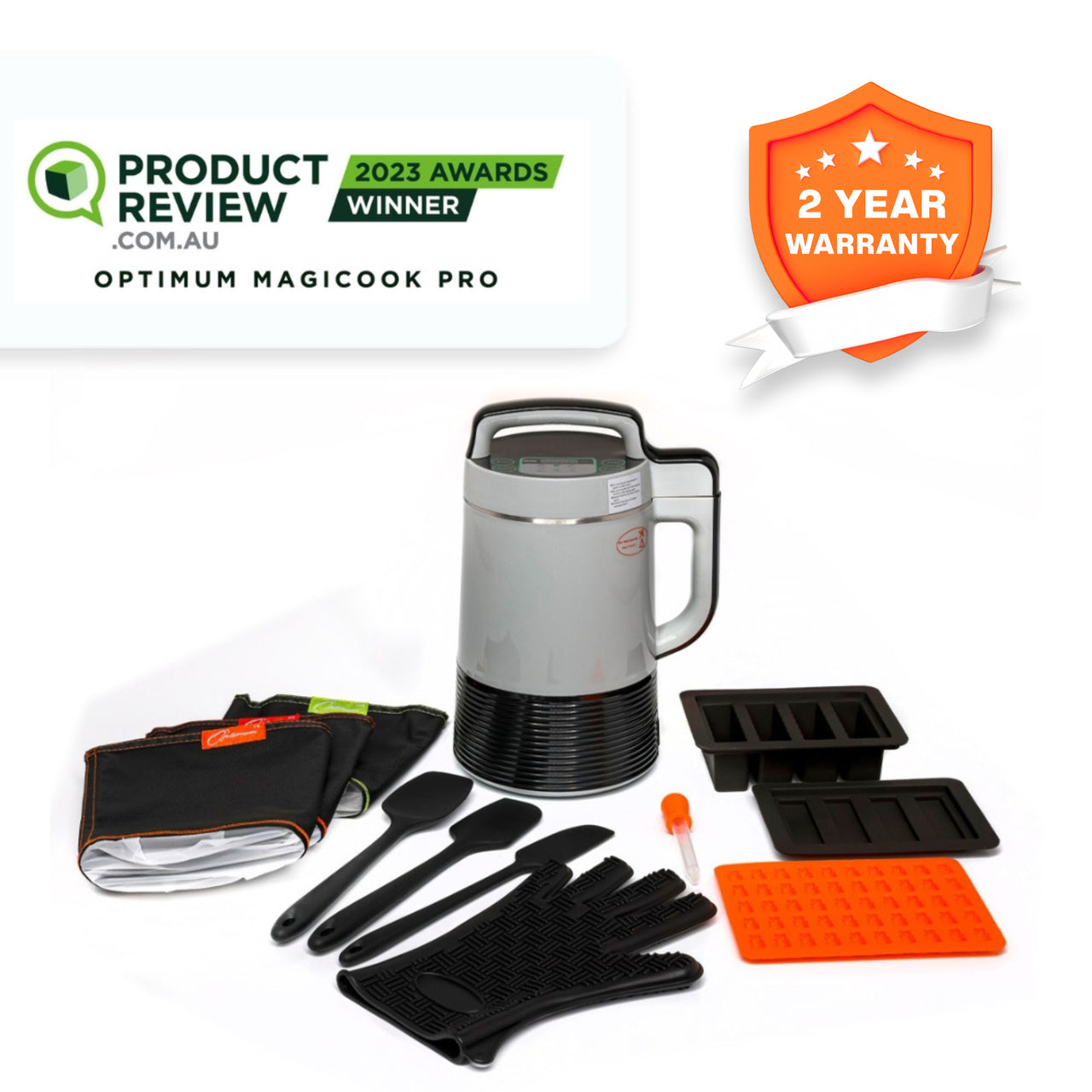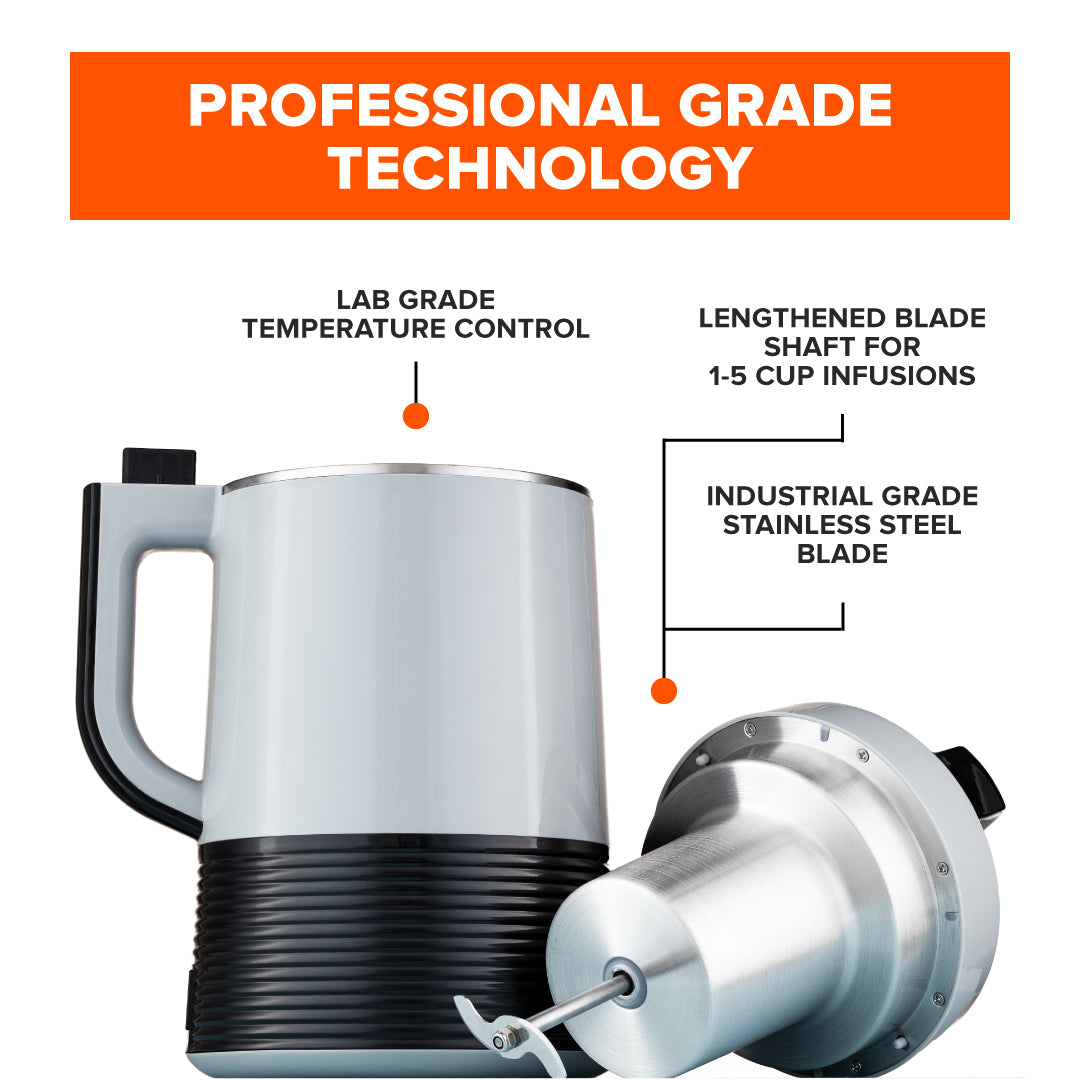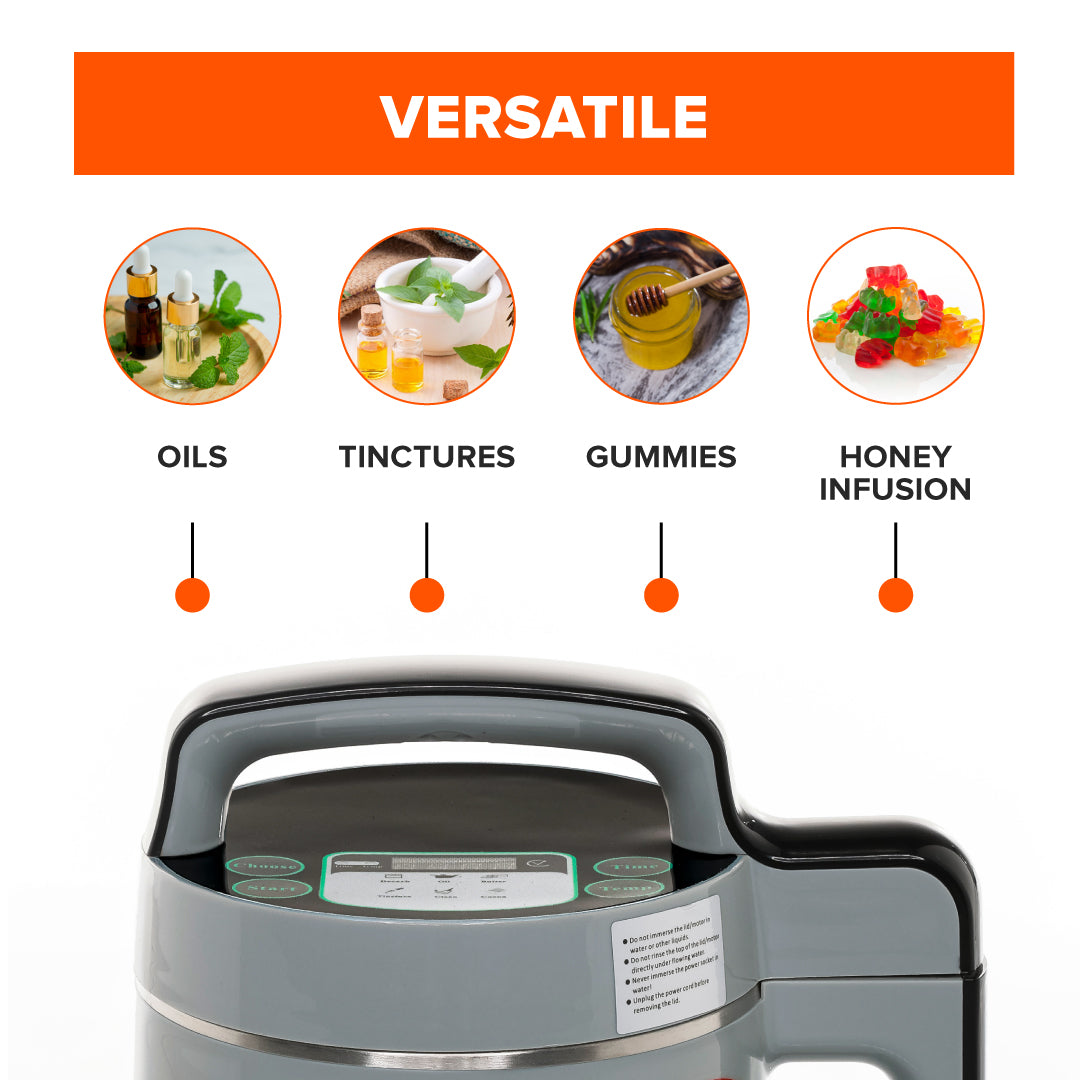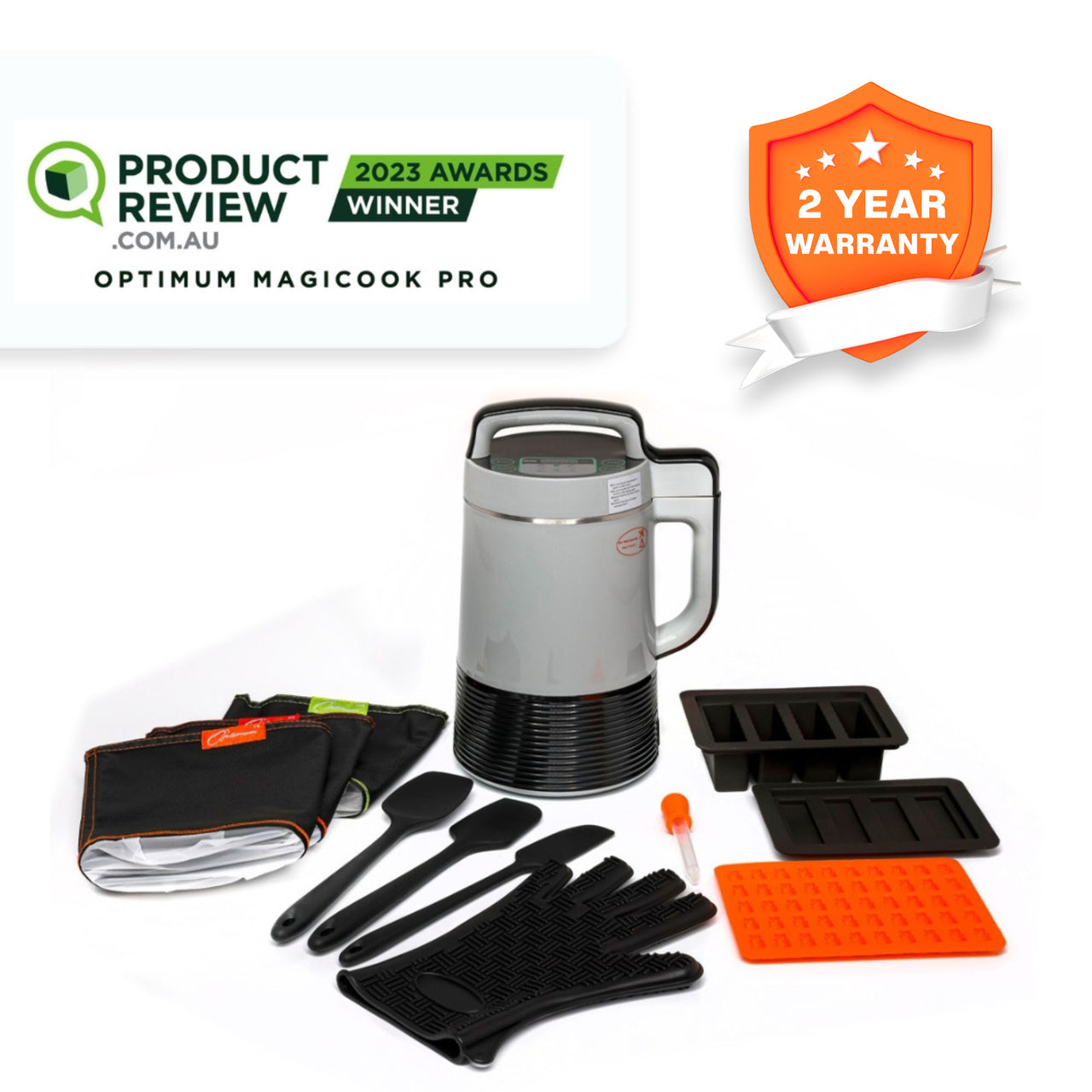 Get a Portable Blender To Complement Your Magicook
Start Blending on the go with the Nutriforce Mini 500ml portable blender!
Total price:
$359.60
$434.60
THE OPTIMUM MAGICOOK PRO INCLUDES:
30 Day Money Back Guarantee
Stainless Steel Base-Heating Jug
3x Purifier mesh bags (25, 73 and 190 mesh)
3x Silicone spatulas
Silicone glove
Butter mold
Gummy bear silicone mold
User Manual with Recipes
Stainless Steel Cutting Blades
24x7 Support & Warranty
Comprehensive Warranty
Decarb Boxes (700ml, 1300ml) + Thermometer (OPTIONAL)
WHAT CAN THE OPTIMUM MAGICOOK PRO MAKE?
Infused Oils
You can effortlessly extract the essence of your favourite herbs and botanicals, resulting in deliciously infused oils that will add depth and character to your dishes!
Gummies
Say goodbye to store-bought gummies packed with artificial ingredients and embrace the joy of making healthier, tastier versions at home!
Butter
Take your baked delights and desserts to extraordinary levels by blending butter with your preferred herbs and botanicals.
Honey
Make your own natural sweetness. Infusing honey with your favourite herbs and botanicals is the best thing you can make in your own home.
Soups
From comforting tomato basil soup to hearty vegetable broth, the possibilities are boundless. You can effortlessly unlock the full potential of your chosen herbs, enhancing the taste and aroma of your soups!
Drinks
You can enjoy everything from revitalizing cucumber and mint-infused water to invigorating citrus-infused cocktails, and so much more!
Beeswax salves
Your skincare routine matters! Extract the natural benefits of herbs, enhancing the healing properties of your salves!
Tinctures
From soothing chamomile tinctures to invigorating ginger blends. Treat yourself and your well-being with the magic of herbal-infused tinctures using the Optimum Magicook Pro!
Soaps
Imagine washing your hands with a soap that not only removes dirt and germs but also leaves a subtle, refreshing aura around you. Magicook Pro Infused Soap is designed to infuse a hint of enchantment into your skin, rejuvenating your senses as you lather up.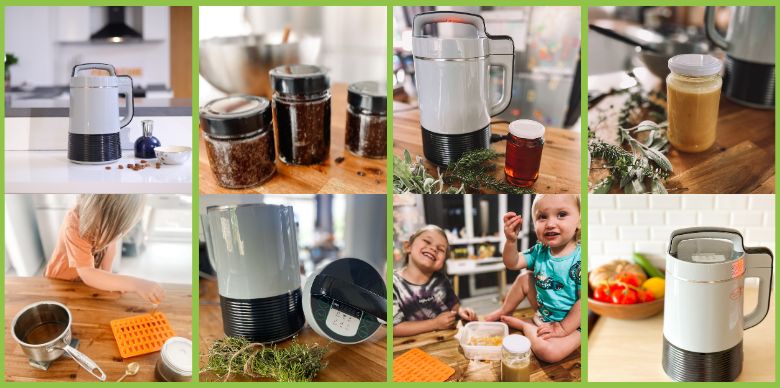 #optimummagicook
Infuse, Snap, Post!
CHERRY PICKED PRODUCTS
Recommended for you
Optimum MagiCook PRO - The Best Decarboxylator Herbal Infuser in Australia
from

$274.00

$349.00
THE OPTIMUM MAGICOOK PRO INCLUDES: 30 Day Money Back Guarantee Stainless Steel Base-Heating Jug 3x Purifier mesh bags (25, 73 and 190 mesh) 3x Silicone spatulas Silicone glove Butter mold Gummy bear silicone mold User Manual with Recipes Stainless Steel Cutting Blades 24x7 Support & Warranty Comprehensive Warranty Decarb Boxes (700ml, 1300ml) + Thermometer (OPTIONAL)
Thermocook Pro-M 2.0 - The Best All-In-One Kitchen Appliance in Australia!
from

$899.00

$1,100.00
THE OPTIMUM THERMOCOOK PRO M 2.0 INCLUDES: 30 Day Money Back Guarantee ThermoCook Pro M 2.0 Base with Integrated Scale 2.5 Litre stainless steel bowl for blending and cooking Steamer Insert Cooker Insert (Inner Basket) Stainless Steel Blade Assembly Large digital LCD display to manually adjust time, temperature and speed + preset functions + reverse function Butterfly Whisk Spatula 24x7 Support & Warranty Up to 1000 built-in recipes WIFI and the ability to use and program your own recipes into a mobile phone app for greater flexibility Comprehensive Warranty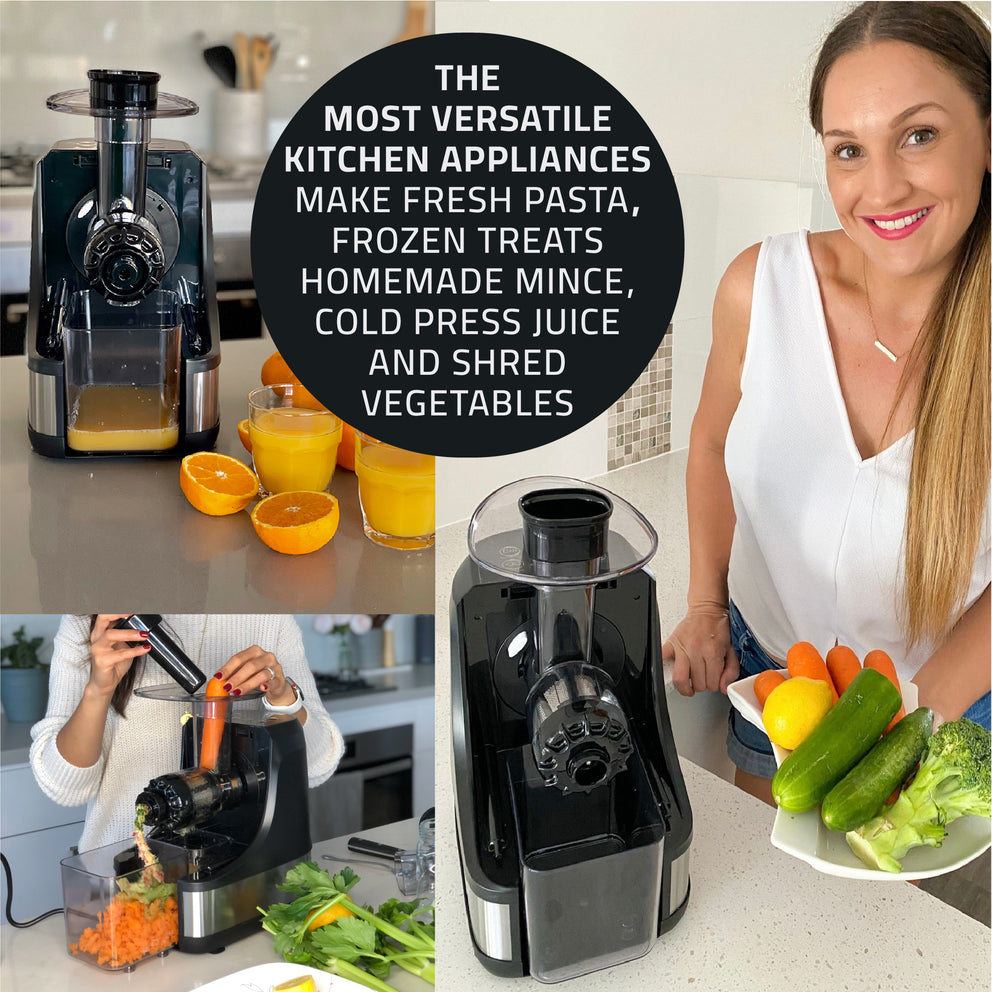 The Optimum Mamma Mia - Pasta Maker, Juicer, Slicer & Shredder All In 1 Appliance!
$319.00
$369.00
THE OPTIMUM MAMMA MIA COMES WITH: 30 Day Money Back Guarantee Quality noodle mixing chamber with 8 different attachments -- Linguine, Spaghetti, Fettuccine, Tagliatelle, Angel Hair, Penne, Lasagna and Udon Slow Juicer Attachment Meat Grinder Attachment Slicer/Shredder Attachment Frozen Treat Attachment Digital LCD Touch Screen Panel Wet and Dry Measuring Cups Cleaning Brush Dough Scraper 24x7 Support & Warranty Comprehensive Warranty User Manual & Recipe Book WHY THE MAMMA MIA WILL BE YOUR NEW FAVOURITE KITCHEN ASSISTANT VersatileIf you are looking for one of the most versatile kitchen appliances on the market today, you've come to the right place. The Optimum Mamma Mia does it all -- it makes fresh pasta/noodles, frozen treats, homemade mince, cold press juice and can shred vegetables and cheese in a matter of seconds. Access to expert support teamOur expert support team of avid juicers, nutritionists and chefs are always available to all Optimum customers. Whatever questions you have, you can be assured that a team member will be able to help you with anything you need.Thousands of Customer ReviewsThousands of customer reviews can be found on Facebook, Instagram, Choice and Product Review Australia. Our juicers are ranked #1, #2, #4, #5 and #6 on Product Review. 24x7 support & warrantyOur support and warranty team operate 24/7, all around the globe. When you purchase your Mamma Mia, you will have full access to our customer service team, regardless of the time of day. WHAT CAN I MAKE WITH MY OPTIMUM MAMMA MIA? FRESH PASTA AND NOODLES Say goodbye to store-bought options and savour the incomparable taste and texture of freshly made pasta in the comfort of your own kitchen! COLD PRESS JUICE This incredible machine lets you create nutrient-packed, fresh juices that retain all the goodness and flavours of your favourite fruits and vegetables. HOMEMADE MINCED MEAT Create flavorful homemade minced meat like never before! Experience the joy of customizing your perfect meal with herbs and spices! FROZEN TREATS Beat the heat and treat yourself to delightful frozen creations. From creamy gelato to fruity sorbets and refreshing frozen yoghurts, the possibilities are endless, the Optimum Mamma Mia effortlessly blends and churns ingredients to create velvety-smooth, luscious frozen delights in no time. SHREDDED CHEESE Simply pop in your favourite block of cheese, and let the shredder do the work for you. From soft to hard cheeses, it handles them all with ease, saving you time and effort in the kitchen. SLICED AND SHREDDED VEGGIES Effortlessly slice cucumbers, carrots, and bell peppers into uniform shapes, adding a beautiful touch to your dishes. Try Now
The Optimum Bon Appetit - A Pro's Mixer For the Household Cook
from

$439.00

$579.00
The Optimum Bon Appetit Includes: 30 Day Money Back Guarantee Standmixer Base Aluminum Dough Hook Aluminum/Stainless Steel Whisk Aluminum Beater 6 Liter Stainless Steel Bowl Slicer Attachments (optional) Grinder (meat) Attachments (optional) Pasta Maker Attachments (optional) Mixing Shield 24x7 Support & Warranty Comprehensive Warranty
This site requires cookies in order to provide all of its functionality.