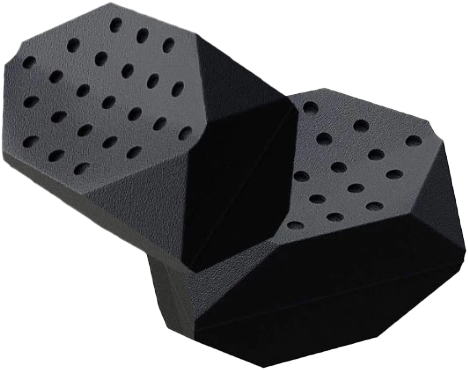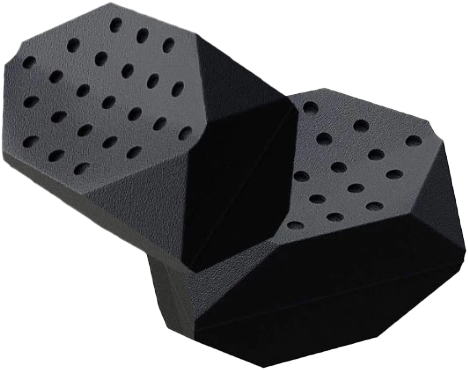 The only equipment you will need to strengthen your facial muscles, develop a sharper jawline and eliminate the appearance of a "double chin".
Simply use your Jawslim Nano for 15 minutes a day and you'll see results in just a few weeks. It doesn't get easier than that!
Jawslim is hands-free you can easily bring it anywhere and use it when you have time. 10-15 minutes a day is all it takes!
Hands-free workout for your jaw, face, and neck
Chisel your jaw and achieve a stronger looking face
Reduce double chin, never look awkward in photos
Activate 57+ muscles in the face
Increase blood flow to the face, oxygenate cells and look youthful
Slim and tone the face for a defined profile at various angles
Increase metabolism to help you lose weight
Reduce cravings by satisfying the desire to chew and eat
Made with 100% Food-Grade, FDA compliant silicone
Exercise your most visual body part, YOUR FACE, without needing to break a sweat! Simple to use and the easiest exercise for the most visual results!
It's time to stop neglecting the muscles in your face, and time to start getting your face the workout it deserves. JawSlim is a hands-free workout, that let's you exercise your face wherever you are, with built in resistance to workout your face just as you would with any other muscle!
HOW DOES IT WORK?
JawSlim is designed to work out the full range of motion of your bite, giving you a stronger & leaner look...the kind that Botox and face filler can only hope to deliver. With 20-50 pounds of resistance, this innovative piece of equipment will chisel and sculpt your jawline for your best look ever!
We recommend that you carry out this exercise regimen for about ten to fifteen minutes every day or every other day for good results. You can do all this at home. There is no need to venture out, unless you want of course!
Our JawSlim has been designed exclusively to help you work out a comprehensive range of motions into that all-important bite. This helps in giving you a fuller and stronger look when it comes to your facial muscles. Forget about all those face fillers and Botox treatments.
HOW TO CLEAN
STEP 1
Bring a pot with water to a boil
STEP 2
Place JawSlim (with bite strips in place) into the boiling water with a slotted spoon or JawSlim necklace.
STEP 3
Boil in water for 20-35 seconds, then remove JawSlim.
STEP 4
Tap the JawSlim to remove any excess water or dip in cold water.
STEP 5
Tap the JawSlim in your mouth and firmly bite into the center of the bite strips until the fit comfortable. Hold the position for 10 seconds.
STEP 6
Repeat only if necessary. Do not boil JawSlim for more than 35 seconds at a time.
Disclaimer: You must be 18 years or older or at least the age of majority in the jurisdiction where you reside or from which you use Jawslim. This product designed to offer exercising of facial muscles. We make no medical claims in the cure of any illness, safety of use, and or damage to gums and or teeth. Consult a physician before performing this or any exercise program. It is your responsibility to evaluate your own medical and physical condition, or that of your clients, and to independently determine whether to perform, use or adapt any of the exercise programs using Jawslim. If you experience any symptoms of weakness, unsteadiness, light-headedness or dizziness, chest pain or pressure, nausea, or shortness of breath. Mild soreness after exercise may be experienced after beginning a new exercise. Contact your physician if the soreness does not improve after 2-3 days. Any exercise program may result in injury. By voluntarily undertaking any exercise you assume the risk of any resulting injury. We do not recommend using Jawslim when operating machinery.

#Froothie9200A
Blend, Snap, Post!
We want to see all the amazing creations that you have made in your Optimum 9200A blender. Don't forget to tag us on Facebook or Instagram, or hashtag your photo with #Froothie9200AWe also send out spontaneous prizes to creators of our favourite content, so don't miss out and get blending today.